Wonderland Lodge At Mt. Rainier - Hot Tub - Crystal Mountain
Property overview
Lodge

161

m²

Sleeps: 10

Bedrooms: 3

Bathrooms: 2

Separate Toilets: 1

Min. Stay: 2 nights
Instant Confirmation
Hot Tub
Pets Welcome
Internet
TV
Washer & Dryer
Lodge, 3 Bedrooms, 2½ Baths, Sleeps 9
Tour this property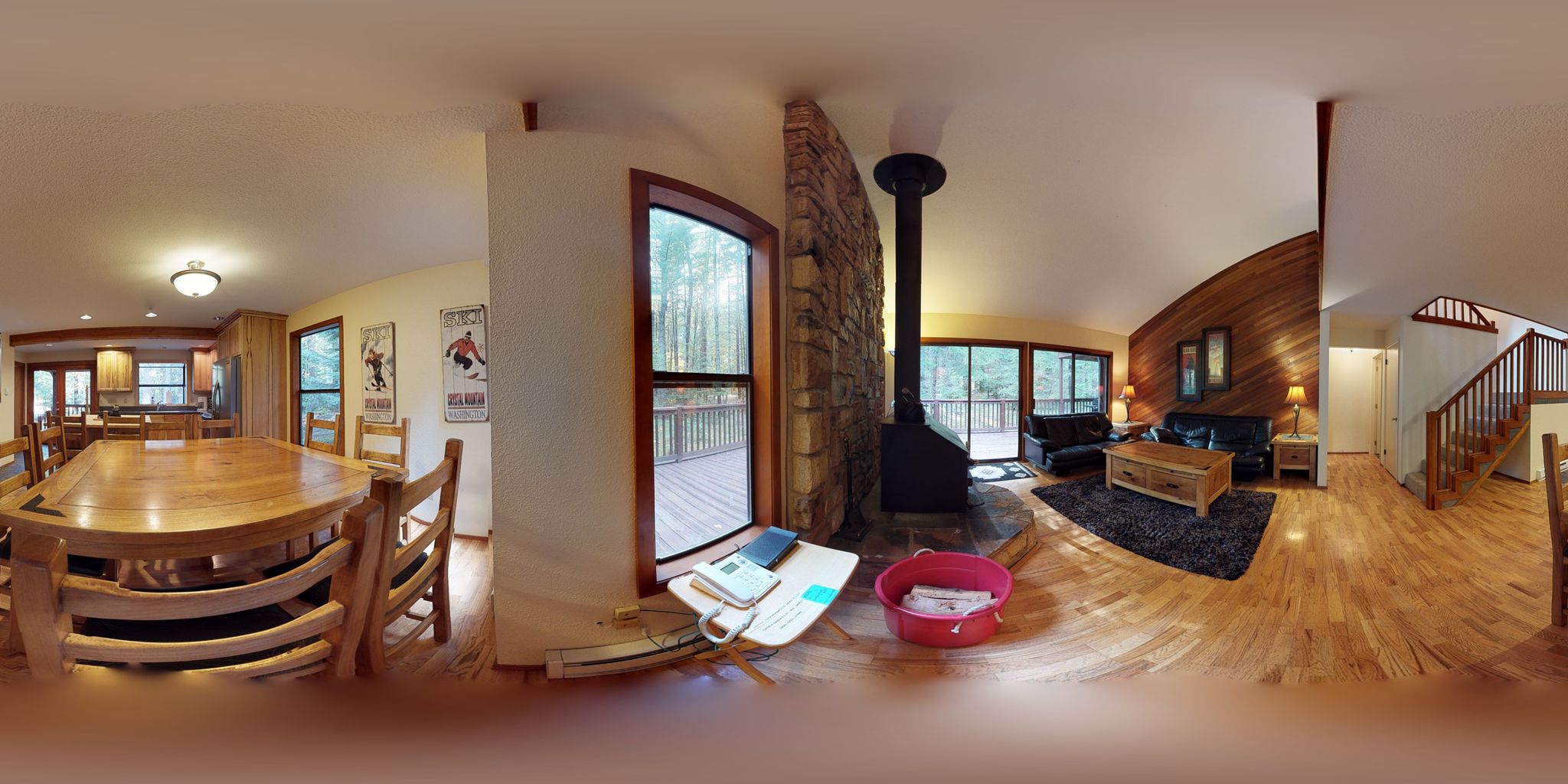 Property Manager
Ask a question
Crystal Mountain Cabins
Member Since 2003
Amenities
Featured
Washer & Dryer

TV

Internet

Parking

Pets Welcome

Hot Tub
Bathrooms
Bathrooms: 2, Separate Toilets: 1
House Rules
Check-in: 5:00 pm
Check-out: 11:00 am
Pets allowed
Dogs only, max 3/40lbs, USD500 fee/unapproved pet
Minimum age of primary renter:25
Max guests:10 (sleeps up to 10 adults)
Reviews
1–6 of 10
Cute Cabin in the Woods
Overall, we had a lovely stay and enjoyed this cute little cabin in the woods. Lots of wood available for the fireplace, kitchen was pretty well stocked, and beds were satisfactory. Nice quiet spot off the beaten path when you want to get away. It could definitely use some additional lighting in the living room and new couches. Check-in at 5pm felt pretty late and the early check in fee wasn't disclosed when I inquired prior to making a reservation. But the lockbox entry made it easy when we were able to get in.
All older vacation homes have quirks and this is no exception, but again, we enjoyed the "ski lodge" feel and had a nice stay.
Owner's Response:
We are so glad the guest had a nice time!
Great cabin in the woods
More of a house than a cabin, but wonderful location in the woods. Well appointed kitchen, great hot tub, and really enjoyed our stay.
Owner's Response:
We are so glad the guest had a great time!
Disappointed
The kitchen was well stocked. The heater was working well.
The place was dirty, the towels filthy and there was a lot of deferred maintenance.
Owner's Response:
This is a beautiful wooded lodge just outside Crystal Mountain and Mt rainier, with a super hot tub and fireplace. Talked with the guest yesterday and made no mention of any of the items. We completely disagree with the guest assertions. The home is not dirty. The linens are clean and there is no deferred maintenance. Perhaps this guest confused this home with another they stayed in.
Fantastic secluded cozy cabin
A group of us hiked Mt. Rainier and stayed at this super cute secluded cabin. It was very cozy.
Pros:
1. large fully stocked clean kitchen area; great for group dinners
2. that downstairs bathroom was HEAVENLY. Dual shower heads and sauna? Amazing. also a very large jacuzzi tub
3. great functioning Jacuzzi - very welcoming after our hikes
4. love the windows - large and open to really see the beautiful landscape
5. accessible laundry
Cons:
1. the wifi was super spotty. Yes, we're out in nature, so it wasn't too much of a damper
2. games that were provided were missing pieces so it made it hard to play them. we were able to put together a stack of cards and had great fun with that
3. upstairs couch is super worn down. we didn't use it, but could probably use an update
4. water filter on fridge needed to be replaced
All in all, we really enjoyed our stay. The landscape was really beautiful and we couldn't have asked for a better stay.
Owner's Response:
We are so glad the guest had a great time!
We had a great Christmas experience
This house was wonderful and met all our expectations. From the cute little snowmen to the wonderful kitchen, everything was exactly as descripted on the website.
We had a great Christmas experience at Wonderland Lodge.
Owner's Response:
That you for giving us great reviews, please come back again - Jan
A wonderful property
A wonderful cabin, fully furnished with a well stocked kitchen. Nestled in the forest within a short drive to mount Rainier national park. A wonderful property
Owner's Response:
We loved you enjoyed your stay with us, hope to host you again - Jan
1–6 of 10